Topics
Evariste Galois Biography
Other Biographies
Not related to Evariste Galois: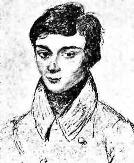 What's New
September 26, 2005
We have included a Romanian version.
April 15, 2005
Chapter on novels about Galois included
May 2, 2004
There is a revised French version of the biography. I am thankful to Mrs Geneviève Rôth for her great work!
April 1, 2004
Some things didn't work anymore, e.g. downloading the pdf files. Added Prof. Milnes new version of his Galois theory.
June 30, 2003
I removed the frame version, because it was not necessary any more and besides that, it most probably disturbed Google.
January 30, 2003
I poshed up the outfit of the page, i.e. included some colour and the button behaviour. I improved the no frame version as well.
November 5, 2002
This site had to be totally redesigned, because search engines, e.g. Google, couldn't traverse the old structure.
October 16, 2002
A few changes in the scripts, which are controlling the window management in the GTP.
October 6, 2002
A bug which affected netscape browsers 4.* was removed. A text of Nerval, i.e. "Mes Prisons", was added.
September 19, 2002
"No improvement without a bug!" Yesterdays changes blocked the site for most browsers. I am terribly sorry! Continued with the Italian version of the biography.
September 18, 2002
Multilingual meta tags included, i.e. author, description and keywords
September 12, 2002
A version was added, which doesn't need frames: index_no_frames.php
September 3, 2002
The following texts have been added:
Lettre adressée au rédacteur de la Gazette des écoles.
Lettre de Bach
Lettres de M. Guigniault au Ministre sur lexpulsion de Galois
Extrait d'une Lettre d'un camarade de Galois relative a son expulsion
Article de la « Gazette des Écoles » du 5 decembre 1830
Lettre De M. Laborie, Proviseur Du College Louis-le-Grand, Au Père De Galois
Arrêté dexpulsion de Galois relevé sur les registres
Procès-verbal de lautopsie de Galols
Acte de Décès de Galois
Dernier écrou de Galois a Sainte-Pélagie
Acte De Naissance D'Évariste Galois
Notes Trimestrielles: 1826-1827.
Notes Trimestrielles: 1827-1828.
Notes Trimestrielles: 1828-1829.
September 2, 2002
Bug in entrance form for email lists removed.
August 31, 2002
French version of biography is complete.
August 30, 2002
The chapter "Sa vie politique" is finished in French. Alain Kraus' "Theorie de Galois" included.
August 29, 2002
The following French chapters have been finished: "Sa scolarité" and "Des Revers de fortune", started with "Sa vie politique"
August 28, 2002
I continued with the German version of the biography. I included further links.
August 24, 2002
Galois letter to the Gazette des Écoles "SUR L'ENSEIGNEMENT DES SCIENCES" incorporated
August 23, 2002
Preface to Biography added. Some changes in scripts. The English versions of the Biography for "Fallen in Love" and "The Duel" added.
August 22, 2002
What's new page and links added
August 1, 2002
Started Work on this Site